MGB and Midget service £240 + VAT. High quality rotor arm and condensor are used wherever possible.
Our MGB and Midget full service includes 5 litres of Dynolite oil, oil filter, points, condensor, rotor arm, distributor cap, NGK spark plugs, rocker cover gasket, fuel filter and air filters. Our service involves having all the wheels off and carefully examining the brakes and suspension, greasing the king pins, propshaft & handbrake cable, and cleaning & adjusting the rear brake shoes. The oil levels in the axle and gearbox are examined and topped up if required. The drain bung for the fresh air intake is blown out to remove all the 'crud' that usually collects there. The rocker cover comes off, the tappets are reset and the cover is refitted with a new gasket. The distributor is removed and checked for play, the vacuum advance is tested and the new points, condensor & rotor arm are fitted. The carb tops are removed, the mixture level is reset and the insides of the carbs are cleaned. The car is timed up and then the CO levels are set. The wheels are torqued or knocked up and a check is made on all the electrics. I also carry out a full visual inspection of the underside of the car. I then test drive the car and carry out any adjustments as required. Please allow 3-4 hours for me to complete your service. We are a three minute walk away from the Clacton Shopping Village or there are regular buses down to the sea front if you would like to stretch your legs.
MGC Service £290 + VAT. As above, but with more plugs and even better Dynolite oil.
Jaguar Servicing. Please call for prices.
MGF servicing. Please call for prices.
We also have a sand blaster for items up to wheel size and have just added a glass bead blaster for delicate items like carbs.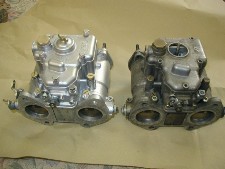 We also break MGBs and MGCs. If you require good secondhand parts or even reconditioned used items, then please give me a call or send me an email.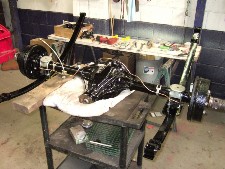 As well as the classic MGs we now offer servicing on the MGF/TF. We also carry out the cambelt change and head gasket failure work including changing the water pump and thermostat.
I can also pump up the hydragas suspension on the MGF. 
Please call to discuss your requirements.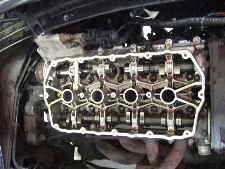 MGB Chrome Bumper Conversions
We can convert your MGB from rubber bumpers to chrome bumpers. This includes all the kit, welding and spraying of the front & rear wings and the new front valance. All work is waxoiled on completion. Prices for lowering kits are available on request.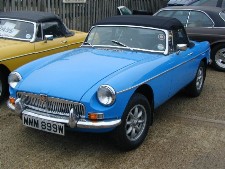 I made this for a customer as a Christmas gift from his original flywheel and crankshaft that were unable to be used in his restoration. Needs a bigger lampshade I think.